Summer's just about here—always a great time for knitting socks. They're light and portable and don't involve large amounts of wool (which is never too comfortable on hot summer days).
So I'm pleased to announce a new sock pattern for the start of the summer season. Worked in the round from the top down, my
Plumtree
socks feature an appealing mix of lace and knit-purl textures. They're now available
on Ravelry
.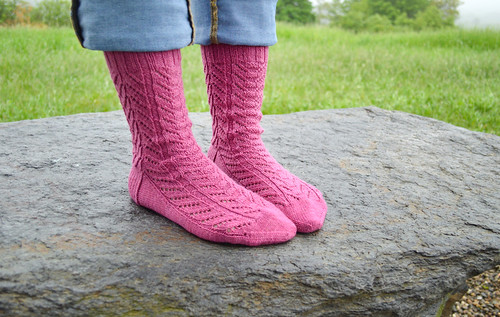 When I ordered the yarn months ago, I wanted a color that said, "summer," and when the skein arrived I was thrilled. To my eye, this Elderberry colorway of Altair sock yarn by
Luna Grey Fiber Arts
really embodies the sweetness of warm weather and sunny days. A blend of superwash merino, nylon, and Tencel, Altair has great stitch definition. The purl stitches and decreases are nice and crisp and the stockinette is beautifully even. I love when I take a chance on a new-to-me yarn and discover a new favorite!
Like
Hulst
and
Pomeroy
, these socks are named after a street in my hometown of Amherst, Massachusetts. We shot the photos at one of my favorite Amherst spots, the Mount Pollux conservation area (you may recognize it—it's also where I shot
Pomegranate
and
Wonderberry
). It's a quiet, peaceful place with lots of trails, meadows, apple trees, and beautiful views of the surrounding Pioneer Valley and nearby Mount Norwottuck. I always feel refreshed after spending time there.
Check out the
#plumtreesocks hashtag
on Instagram to see
Plumtrees
in other yarns and colors. I'm really grateful to the test knitters who responded to my call and enthusiastically knit up the socks! (Their speedy knitting confirmed these socks are really a quick knit.)
I'm also grateful to my sister Jackie for being such a terrific sock model and to Jenny for editing the pattern. Another Sennott Sisters production! And a shout out to
Betsey
, too—she and
Jenny
are both knitting their very own
Plumtrees
(you need to be logged on to Ravelry to follow these links to their projects).
Since the socks have plenty of yarn overs, they're a perfect project for this summer's
Yarn Over KAL
. Join the fun in the Ravelry Blue Peninsula group—you can cast on anytime between now and July 30. We have some lovely prizes—including a skein of the same yarn and colorway I knit
Plumtree
with.
Thank you very much for reading. I hope your summer is off to a beautiful start!